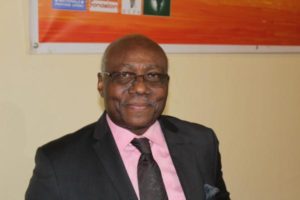 Monday, 7th June 2021: As the global community celebrates today as World Food Safety Day, the Executive Secretary of the International Centre for Research and Documentation on African Traditions and Languages (CERDOTOLA), Prof. Charles Binam Bikoi, has expressed the readiness of his centre to collaborate with governmental agencies, individuals and corporations to enhance food safety in Africa in particular and the world at large.
Speaking in an exclusive interview with CEOAFRICA to commemorate the day, Binam Bikoi said CERDOTOLA being an intergovernmental institution that deals with human and social sciences knows the importance of healthy food , hence the decision to collaborate  with willing organizations to enhance same.
According to him, the theme of this year's celebration, "Food safety, everyone's business", makes it imperative for CERDOTOLA to come in work with other like minded institution to ensure safety of food for all and sundry.
He said the action-oriented campaign of CERDOTOLA would promotes Africa and global food safety awareness and calls upon countries and decision makers, the private sector, civil society, UN organizations and the general public to take action.
In his words, "The way in which food is produced, stored, handled and consumed affects the safety of our food. Complying with Global food standards, establishing effective regulatory food control systems including emergency preparedness and response, providing access to clean water, applying good agriculture practices (terrestrial, aquatic, livestock, horticulture), strengthening the use of food safety management systems by food business operators, and building capacities of consumers to make healthy food choices are some ways in which governments, international organizations, scientists, the private sector and civil society work to ensure food safety.
"Food safety is a shared responsibility between governments, producers and consumers. Everybody has a role to play from farm to table to ensure the food we consume is safe and will not cause damages to our health. Through World Food Safety Day, WHO pursues its efforts to mainstream food safety in the public agenda and reduce the burden of food borne diseases globally."
The erudite Professor said World Food Safety Day is aimed at "drawing attention and inspire action to help prevent, detect and manage food borne risks, contributing to food security, human health, economic prosperity, agriculture, market access, tourism and sustainable development.
"The World Health Organization (WHO) and the Food and Agriculture Organization of the United Nations (FAO) jointly facilitate the observance of World Food Safety Day, in collaboration with Member States and other relevant organizations.
"This international day is an opportunity to strengthen efforts to ensure that the food we eat is safe, mainstream food safety in the public agenda and reduce the burden of food borne diseases globally."
The prolific researcher said access to sufficient amounts of safe food is key to sustaining life and promoting good health, thereby achieving part of the aim of CERDOTOLA.
He said food borne illnesses are usually infectious or toxic in nature and often invisible to the plain eye, caused by bacteria, viruses, parasites or chemical substances entering the body through contaminated food or water, noting that food safety has a critical role in assuring that food stays safe at every stage of the food chain – from production to harvest, processing, storage, distribution, all the way to preparation and consumption.
Prof Binam Bikoi noted that with an estimated 600 million cases of food borne illnesses annually, unsafe food is a threat to human health and economies, disproportionally affecting vulnerable and marginalized people, especially women and children, populations affected by conflict, and migrants.
He said researches also have it that an estimated 420 000 people around the world die every year after eating contaminated food and children under 5 years of age carry 40% of the food borne disease burden, with 125,000 deaths every year, hence the need for the observance of world food safety day and CERDOTOLA interest in participating. .
Established in 1977 on the initiative of ten Central African countries with UNESCO's support, CERDOTOLA is an intergovernmental institution that works for sub-regional cooperation in the field of culture and in human and social sciences applied to the knowledge, protection, safeguarding and enhancement of the traditional world, history, languages and cultural heritage of Africa.
Its Member States are Angola, Burundi, Cameroon, Central African Republic, Chad, Congo, Democratic Republic of the Congo, Equatorial Guinea, Rwanda and Sao Tome and Principe. Its headquarters are in Yaoundé, Cameroon.
Source: https://ceoafrica.com/newsdetails.php?tabnews=80107#.YL5BRCqBR48.whatsapp